Our Newark Sprinkler Repair Team Pinpoints Problems Fast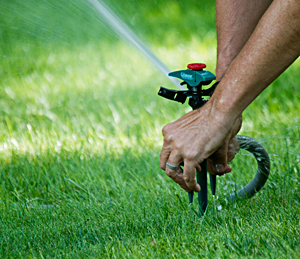 If you're not sure what to expect from sprinkler repair in Newark, CA, give us a call, and we'll walk you through it. Our estimates give detailed prices based on project specifics. You'll only pay for what you actually need. We make every effort to salvage systems that don't require replacement.
Our specialists know the inner workings of sprinkler systems in Newark, CA, and their ability to pinpoint system malfunctions will save you time and money. There's no guesswork here. We'll honor our assessment of what your system needs and how much it will cost to provide it.
We Can Optimize your Irrigation Delivery

If your system has caused the soil to become loose because your sprinkler heads have over watered certain zones on your lawn, we can help there, too. Grass and other plant life may stop growing in overly saturated patches of lawn. Nutrients will also be washed away before they have a chance to penetrate the roots of your plants and lawn. Our Newark sprinkler repair technicians will check for sprinkler heads that are broken or misaligned and help you to identify the root cause of the issues you're experiencing.
Full Service Irrigation Repair & Installation in Newark California

Adjustment and repair of broken sprinkler heads
Sprinkler head replacement
Repair of controllers
Leaks in irrigation and sprinkler systems
Problems with wiring
Valve location and replacement
General maintenance
Tune-ups for the Spring and Fall seasons
Repair of controllers and malfunctioning control valves
Backflow prevention repair
Full system repairs
Pipe repair
Installation of new systems
Seasonal inspections
System replacement
Wiring issues
Pool rerouting
Pump system installation
Rain and Freeze sensor installation
Coverage issues
We also offer services in landscaping, and masonry.